Les nouvelles d'Amparihibe sont excellentes.
Les enfants sont très bien pris en charge par Monsieur Fidélis, l'instituteur. Ils sont vraiment assidus.
L'école confessionnelle du village a d'ailleurs pris exemple sur nous. Lorsqu'un enfant est absent sans justification trois jours de suite, il est renvoyé...

News from Amparihibe is excellent.
   Mr. Fidelis, the teacher, takes really care of them. They are attending class really regularly.

The church school took our school as an example : when a child is absent without justification three consecutive days, he is expelled...
La construction d'une deuxième école vient à point. L'Ecole Margarette a maintenant 3 ans. Les élèves qui ont commencé dès l'ouverture, qui avaient alors 10 ou 11 ans, ont aujourd'hui 13 et 14 ans. Ils doivent laisser la place aux petits. Cette situation soulève deux problèmes : les grands sont de nouveau livrés à eux même et ces enfants qui pourraient commencer à être plus productifs quittent notre structure. Nous perdons ainsi une chance d'être autonome
The construction of a second school is timely. Margarette School is now 3 years. Students who started at the opening, which were then 10 or 11 years are now 13 and 14 years. They have to give space to the younger. This raises two problems: the older are again left to themselves and those children who may begin to be more productive leave our structure. We are losing a chance to be independent.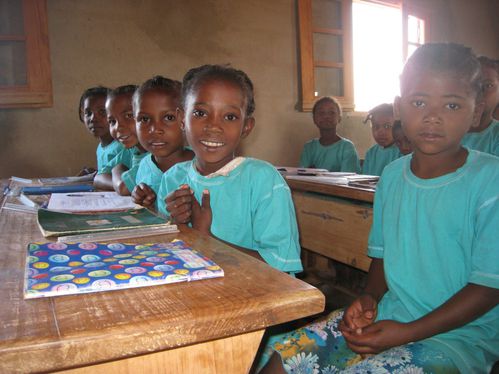 Enfin, beaucoup de parents ont aidé pour le labour du champ des enfants. Les années précédentes, ils étaient peu nombreux. Ils ont en pris conscience de la nécessité d'un investissement personnel dans l'éducation de leurs enfants... C'est un grand pas !
Finally, many parents helped to plow the field of children. In the previous years, they were few. They have taken awareness of the need of personal investment in the education of their children ... This is a big step!
Tiana RAZAFINTSALAMA
Vice Président
Soleil Marmailles